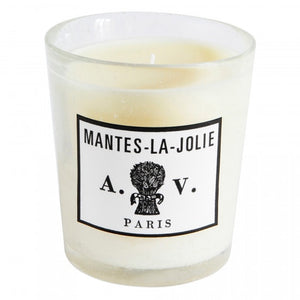 Unabashed citrus notes of Mentha citrata, crunchy green-stem notes with fragrant accents, and the instant freshness of eucalyptus recreate a display of fresh herbs, transporting you to a village market. Contains natural essences of Italian Bergamot, Californian Lemon, Eucalyptus, Virgina Cedara and Crunchy Green-Stem Accord. Perfume designed with Françoise Caron.
The wax formulation, plant-based with a touch of beeswax, is unique. Free from paraffin or petrochemical derivatives, and therefore free from soot, its exceptionally supple and tender texture is a guarantee of its purity. The wax, worked for a long time, is perfectly miscible with the perfume, releasing the scent both hot and cold. The wick, woven in pure cotton, ensures combustion without traces, lasting and perfect for 60 to 70 hours, depending on the scent. Handcrafted blown glass tumblers from Tuscany have a transparent, slightly grey color, and light bubbles, giving them a unique, timeless appearance. Labels and packaging are lead-printed on old presses by SAIG, one of the last typographic workshops in the world.
Precautionary measures:
At no time should any burning candle be left unattended. Keep lighted candles out of reach of children and pets. Keep the wick trimmed to 5 or 6 mm, this length should be maintained thoughout the burning process. Ensure that the wick maintains its central position. Extinguish any candle that smokes excessively (check instructions before relighting). Do not burn a candle on a flammable or fragile surface. Do not let a candle burn for more than three consecutive hours.
Made in France.
Burning time: 60 to 70 hours.
Dimensions : 90 x 90 x 100 mm