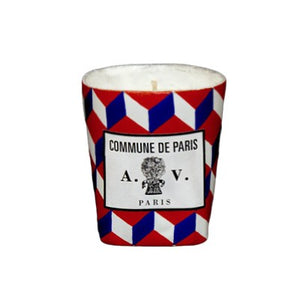 Gusts of citrus fruit, sharp and alive; lemons from Italy, Bergamot and Scented Geranium all invade the air. Suddenly it's the calm after the storm. A delicious, warm, sweet and slightly powdery mist rises from the cobblestones. Suave Styrax resin and Nutmeg are joined by the scent of green almonds from Coumarin, the celebrated molecule of the age. Contains essences of Italian Lemon, Rosehip extract, Geranium, Lavender, Nutmeg, Benzoin, Coumarine. Perfume designed with Françoise Caron.
Our ceramic candles are handmade in our Parisian workshop. Labels and packaging are lead-printed on old presses by SAIG, one of the last typographic workshops in the world.
Precautionary measures:
At no time should any burning candle be left unattended. Keep lighted candles out of reach of children and pets. Keep the wick trimmed to 5 or 6 mm, this length should be maintained thoughout the burning process. Ensure that the wick maintains its central position. Extinguish any candle that smokes excessively (check instructions before relighting). Do not burn a candle on a flammable or fragile surface. Do not let a candle burn for more than three consecutive hours.
Made in France.
Burning time: 50 to 60 hours.
Dimensions : 80 x 80 x 85 mm